TINGKAT MOTIVASI PETERNAK DALAM BETERNAKSAPI (STUDI KASUS KELOMPOK TERNAK BATU MESA DIDESA LETTA KECAMATAN LEMBANG KABUPATEN PINRANG)
rani rasyid

UNIVERSITAS MUHAMMADIYAH SIDENRENG RAPPANG

Angga Nugraha

Muh. Irwan

Muhammad Rais Rahmat Razak
Keywords:
Tingkat Motivasi Peternak, Sapi Bali
Abstract
Penelitian ini untuk mengetahui bagaimana tingkat motivasi peternak dalam berternak sapi (studi kasus kelompok ternak batu mesa di  desa letta kecamatan lembang pinrang Jenis Penelitian yang digunakan adalah Deskriptif kuantitatif yaitu penelitian deskriptif dengan pendekatan kuantitatif. Populasi yang digunakan dalam penelitian ini adalah tingkat motivasi petenak sapi studi kasus kelompok ternak  di letta kecamatan lembang kabupaten pinrang yang berjumlah 13 peternak. Sampel dipilih dengan menggunakan metode  sampling jenuh sebanyak 13 peternak yang konsisten beternak sapi. Pengumpulan data dilakukan dengan menggunakan data primer dan data sekunder  untuk mengetahui tingkat motivasi peternak tahun 2023. Hasil penelitian menunjukkan bahwa hasil responden secara keseluruhan terhadap tingkat motivasi peternak mendapatkan nilai total 132 yang berarti berada pada kategori memenuhi.
Kata kunci : Tingkat Motivasi Peternak, Sapi Bali
References
Oka IGL. 2010. Conservation and Genetic Improvment of Bali Cattle. Proc. Conservation and Improvment of World Indigenous Cattle. Udayana University Lodge, Bukit Jimbaran 11-13 Februari 2010, Bali.
Hellriegel D, Slocum J W, and Richard W.1992. Organization Behavior. New York. Penerbit:West Publishing Company
Hartono. (2011). Analisis Ekonomi Rumah Tangga Peternak Sapi Potong di Kec. Damsol, Kabupaten Donggala, Propinsi Sulawesi Tengah.Jurnal Ternak Tropika Hartono, 12(1), 60–70.
Nugraha A, Hartono B and Azizah S.(2018).Cattle breeder motivation through cattle breeding profit sharing system performance at Maiwa district, Enrekang regency,South Sulawesi IOSR J. Econ. Financ. 9 72–8.
Putra Astaman, Ahmad Ramadhan Siregar, Ikrar Mohammad Saleh, Tanri Giling Rasyid, Amrullah, Muh. Hatta, Muhammad Darwis, dan Khaifah Asgaf. (2022). Analisis Klaster Sapi Bali di Kabupaten Barru, Provinsi Sulawesi Selatan
Suharyati a, S., & Hartono, M. (2017). Pengaruh Manajemen Peternak Terhadap Efesiensi Reproduksi Sapi Bali Di Kabupaten Pringsewu Provinsi Lampung. Jurnal Penelitian PertanianTerapan, 16(1), 61–67. https://doi.org/10.25181/jppt.v16i1.77
Suharyati b, S., dan M. Hartono. (2015). Beberapa faktor yang memengaruhi service per conception pada sapi Bali di Kabupaten Pringsewu. Jurnal Ilmiah Peternakan Terpadu, 3(3), 145–150.
Sulfiana. (2020). Peran Kelompok Peternak Dalam Pengembangan Usaha Ternak Sapi (Studi Kasus Pada Kelompok ernak Sikatutui di Desa Balangtanaya Kecamatan Polongbangkeng Utara Kabupaten Takalar. Skripsi. Program Studi Agribisnis, Fakultas Pertanian Universitas Muhammadiyah Makassar.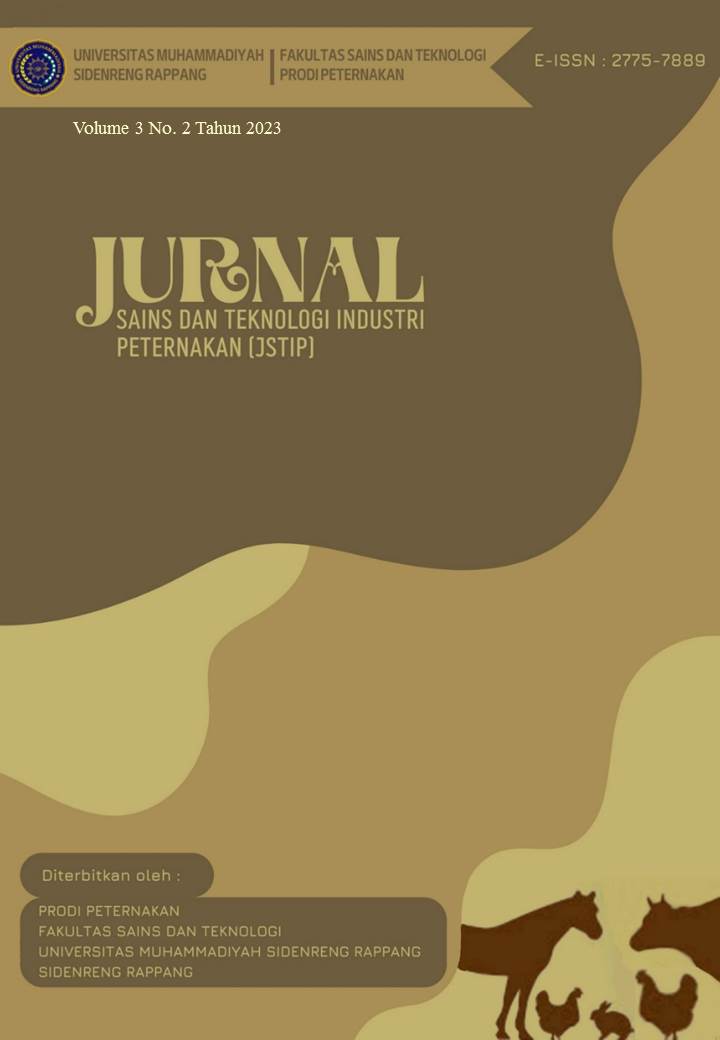 How to Cite
rasyid, rani, Nugraha, A., Irwan, M., & Razak, M. R. (2023). TINGKAT MOTIVASI PETERNAK DALAM BETERNAKSAPI (STUDI KASUS KELOMPOK TERNAK BATU MESA DIDESA LETTA KECAMATAN LEMBANG KABUPATEN PINRANG). Jurnal Sains Dan Teknologi Industri Peternakan, 3(2), 41-44. https://doi.org/10.55678/jstip.v3i2.1165