INTERAKSI SOSIAL PADA RANTAI PEMASARAN SUSU SEGAR
(STUDI KASUS DI KOPERASI UNIT DESA KARANGPLOSO)
Anie Eka Kusumastuti

Universitas Brawijaya
Keywords:
marketing chain, social interaction, associative, dissociative
Abstract
This research was conducted in Bocek Village, Karangploso District, Malang Regency as one of the several village agribusiness centers for fresh milk around the KUD Karangploso area. The research purpose was to determine social interaction in the fresh milk marketing chain. The research method used was survey method. Type of data uses were primary data and secondary data. Primary data obtained through observation, direct interviews to dairy farmer and cooperative officer & Netle representative, and documentation. While secondary data obtained from relevant documents. The theoretical approach used was the social interaction theory which it can be consist of the form of cooperation, competition as well as conflict and accommodation. Data then analyzed descriptive qualitatively. In general, there are two main characteristics of social interaction, namely associative and dissociative. The results indicated that the social interaction that was formed in the marketing of fresh milk by dairy farmers in the Karangploso KUD area was social interaction between farmers because there was an organizational relationship between members of the Karangploso KUD. The social interaction of dairy farmers with the KUD Karangploso was formed due to cooperation in marketing fresh milk. While social interaction between KUD Karangploso and PT. Nestle Indonesia is in the form of cooperation in the distribution of fresh milk on the basis of contractual cooperation.
References
Badan Pusat Statistik. 2021. Produksi Susu Segar menurut Provinsi (Ton), Tahun 2019-2021. BPS Indonesia.
Boyd, H. W., O. C. Walker, dan J. C. Larreche. 2000. Manajemen Pemasaran: Suatu Pendekatan Strategis dengan Orientasi Global. Jakarta: Erlangga Edison, 2017. Kecamatan Karangploso dalam Angka. Malang: BPS Kabupaten Malang.
Elida, S. 2016. Potensi dan Strategi Pengembangan Usaha Ternak Sapi Perah di Kecamatan Pangkalan Kerinci Kabupaten Pelalawan. Gontor Agrotech Science Journal. 2(2): 53-70.
Gaspersz, V. 2001. Total Quality Management. Jakarta: Gramedia Pustaka.
Harini, N. D. 2012. Dari Miyang ke Longlenan: Pengaruh Jaringan Sosial Pada Transportasi Masyarakat Nelayan. Jurnal Komunitas. 4(2): 178-190.
Maleong, L. 2009. Metode Penelitian Kualitatif. Bandung: PT Remaja Rosdakarya.
McAdam, M., R. McAdam, A. Dunn, and C. McCall. 2016. Regional Herizontal Network Within The SME Agri-food Sector: An innovation And Social Network Perspective. Regional Studies. 50(8): 1316-1329.
Mastuti, S., dan N. N. Hidayat. 2009. Peranan Tenaga Kerja Perempuan dalam Usaha Ternak Sapi Perah di Kabupaten Banyumas. JAP. 11(1): 40-47.
Nurdiani, N. 2014. Teknik Sampling Snowball dalam Penelitian Lapangan. Comtech. 5(2): 1110-1118.
Purba, K. R., S.P. Syahlani, F. T. Haryadi, S. Andarwati, dan A. R. S. Putra. 2018. Analisis Model Jaringan Sosial Rantai Pemasaran Telur Ayam Ras Di Yogyakarta. Jurnal Sain Peternakan Indonesia. 13(3): 295-302.
Ridwana, R., Yus, R., dan Mochammad, R. 2015. Analisis Saluran Pemasaran Kelapa (Cocos nucifera L). Jurnal Ilmiah Mahasiswa Agroinfo Galuh. 1(3): 183-186.
Soekanto, S. dan Budi, S. 2013. Sosiologi Suatu Pengantar. Jakarta: Rajawali Pers.
Sugiyono. 2010. Metode Penelitian Kualitatif Kuantitatif dan R&D. Bandung: Penerbit Alfabeta.
Tawaf, R., Murti, T. W., dan Saptati, R. A. (2009). Kelembagaan dan tata niaga susu. Profil Usaha Peternakan Sapi Perah di Indonesia. Jakarta: LIPI Press.
Triyanti, R., Christina, T., dan Tenny, A. 2014. Peran Jaringan Sosial Nelayan Pada Pemasaran Tuna, Cakalang, Dan Tongkol: Studi Khasus Di Kota Kendari. J. Sosek KP. 9(2): 219-231.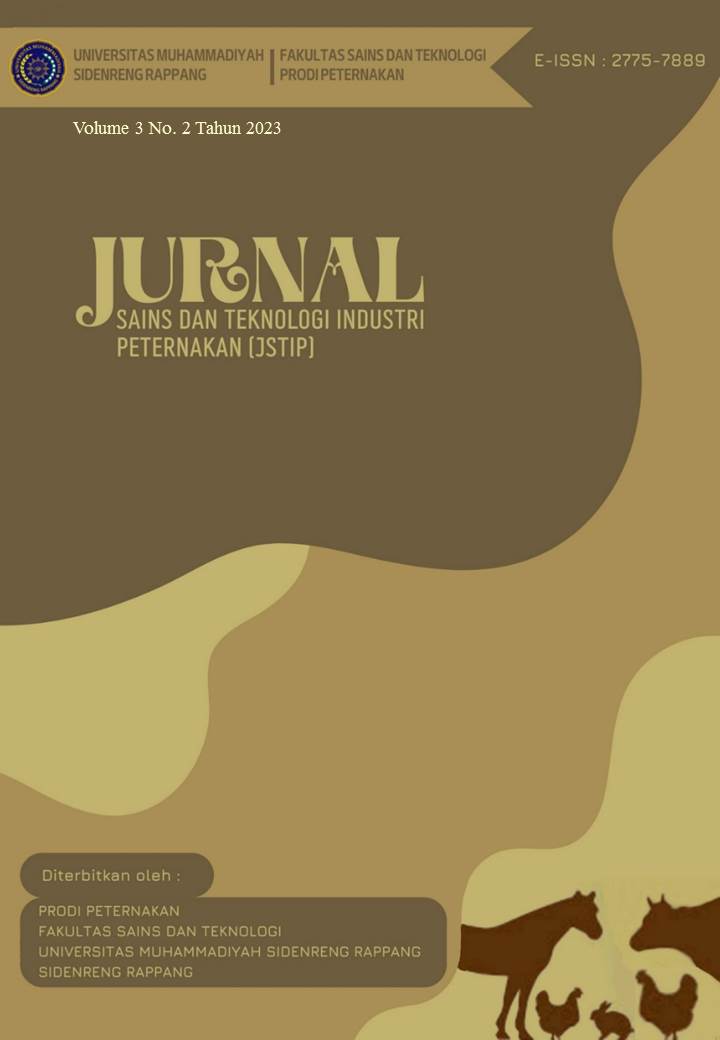 How to Cite
Kusumastuti, A. (2023). INTERAKSI SOSIAL PADA RANTAI PEMASARAN SUSU SEGAR. Jurnal Sains Dan Teknologi Industri Peternakan, 3(2), 1-10. https://doi.org/10.55678/jstip.v3i2.886