EFEKTIVITAS PROGRAM APLIKASI SAMBARA DALAM PENINGKATAN KUALITAS PELAYANAN PADA SISTEM ADMINISTRASI MANUNGGAL SATU ATAP KOTA BOGOR
Muhammad Rizky Ferdian Juanda

Universitas Singaperbangsa Karawang

Usep Dayat

Universitas Singaperbangsa Karawang

Sopyan Resmana Adiarsa

Universitas Singaperbangsa Karawang
Keywords:
Effectiveness, Sambara, tax
Abstract
Samsat Mobile West Java (SAMBARA) application is an electronic-based innovation made by BAPENDA West Java whose function is to check Motor Vehicle Tax in West Java Region. The application can display motor vehicle tax information both two-wheeled and four-wheeled in Jabar online. The benefits of this application, checking motor vehicle tax and also to make payment of motor vehicle tax, knowing the schedule of samsat roving and Samsat Gendong (Samdong), and through the Sambara application can also find out the location of Samsat services. In this study researchers used the theory of effectiveness of Sutrisno and indicators of the quality of public services according to De Vreye. And the method used is descriptive qualitative with data collection techniques conducted by researchers is to take data in the library, read, record, and process research materials. With this Sambara application to facilitate and shorten the time for people who will pay taxes so that people no longer have to wait in line when they want to pay motor vehicle tax
References
Ramdani, A. (2020). ANALISIS DESKRIPTIF TERHADAP INOVASI LAYANAN APLIKASI SAMBARA (Samsat Mobile Jawa Barat). Jurnal Academia Praja, 3(01), 37–43. https://doi.org/10.36859/jap.v3i01.141

Mulyawan, A., & Novia, D. (2016). Aplikasi Pembayaran Pajak Kendaraan Bermotor Online Berbasis Web (Studi Kasus Di Samsat Soreang Kab. Bandung). Jurnal Computech & Bisnis, 10(1), 30–39.

Bahtiar, R., Myrna, R., & Susanti, E. (2021). Digital Government Dalam Pembayaran Pajak Kendaraan Bermotor Berbasis Aplikasi SAMSAT Mobile Jawa Barat (SAMBARA) di Jawa Barat. Kolaborasi: Jurnal Administrasi Publik, 7(2), 230–253. http://journal.unismuh.ac.id/index.php/kolaborasi

Moleong, Lexy. (2002). Metodologi Penelitian Kualitatif. Bandung: PT. Remaja Rosdakarya.

Syafiie, I. K. (2009). Pengantar Ilmu Politik. Bandung: Pustaka Reka Cipta

Bapanda Jabar. 2018. Cek Pajak Kendaraan Melalui Aplikasi Sambara. Dapat diakses di https://bapenda.jabarprov. go.id/2018/08/14/cek-pajak-kendara an-melalui-aplikasi-sambara/ pada 5 Desember 2021.

Bapanda Jabar. 2019. Pajak Kendaraan Bermotor. Dapat diakses di https://bapenda.jabarprov.go.id/pajak-kendaraan-bermotor/toggle-id pada 15 Desember 2021.

Bapanda Jabar. 2019. Samsat j'bret. Dapat diakes di https://bapenda.jabarprov. go.id/samsat-jbret/ pada 15 November 2021.

Maret 2018. Memudahkan Para Wajib Pajak Bapenda. Dapat diakses di http://www.journalnews.co.id/2018/03/memudahkan-para-wajib-pajak-bapenda.html . Pada 16 November 2021.

Oktober 2021. Pengalaman Bayar Pajak Pakai Aplikasi Sambara. Dapat diakses di https://www.carmudi.co.id/journal/pengalaman-bayar-pajak-pakai-aplikasi-sambara/ pada 16 Desember 2021.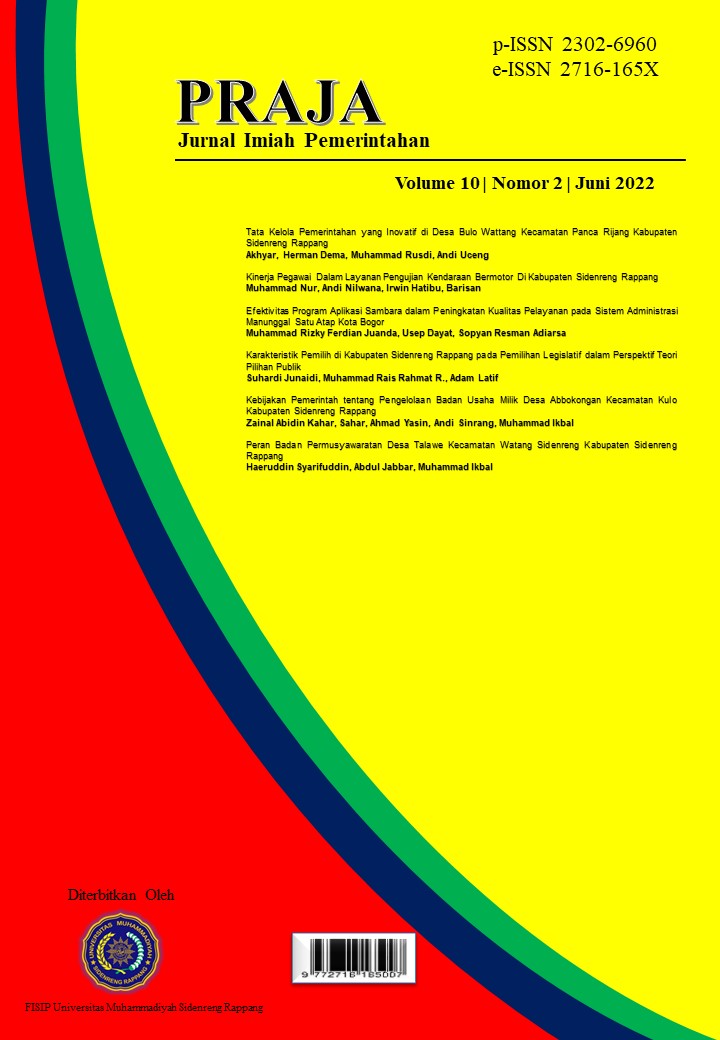 How to Cite
Juanda, M., Dayat, U., & Adiarsa, S. (2022). EFEKTIVITAS PROGRAM APLIKASI SAMBARA DALAM PENINGKATAN KUALITAS PELAYANAN PADA SISTEM ADMINISTRASI MANUNGGAL SATU ATAP KOTA BOGOR. PRAJA: Jurnal Ilmiah Pemerintahan, 10(2), 93-99. https://doi.org/10.55678/prj.v10i2.645