KARAKTERISTIK PEMILIH DI KABUPATEN SIDENRENG RAPPANG PADA PEMILIHAN LEGISLATIF DALAM PERSPEKTIF TEORI PILIHAN PUBLIK
Suhardi Junaidi

Universitas Muhammadiyah Sidenreng Rappang

Muhammad Rais Rahmat

Universitas Muhammadiyah Sidenreng Rappang

Adam Latif

Universitas Muhammadiyah Sidenreng Rappang
Keywords:
Characteristics of Voters and Choice Public Theory
Abstract
The purpose of this study is to determine the characteristics of voters in Sidenreng Rappang regency in the election of the slative legislature. The sample of data sources in this study amounted to 8 people based on purposive samplinf technique. This type of research is descriptive qualitative. Data collection techniques used in this study were observation and interviews. The data analysis technique used in this study is qualitative analysis used by researchs, namely data collection, data reducation, data presentation, and the last step is drawing conclusions.The result of this study are the characteristics of voters in Sidenreng Rappang regency in the legislative election based on the results of interviews from several respondents so that the researchers found the results that the people of Sidenreng Rappang regency, especially in the two electoral districst have several characteristics, including traditional voters, rational voters, and skeptical voters.
References
Abdillah, J. Karakteristik Pemilih Milenial Pada Pemilihan Presiden Dan Wakil Presiden Tahun 2019 Di Desa Kracak Kecamatan Ajibarang Kabupaten Banyumas. 1–58 (2019).

Afifuddin. 2009. Metodologi Penelitan Kualitatif. CV Pustaka Setia. Bandung.

Ahmad, J. 2015. Metode Penelitian Administrasi Publik Teori dan Aplikasi. Yogyakarta: Gava Media.

Arifin, Anwar. 2003. Komunikasi Politik: Paradigma Teori Aplikasi dan Komunikasi Politik Indonesia. Balai Pustaka. Jakarta.

Budiadjo, Miriam. 2008. Dasar-dasar Ilmu Politik. PT Gramedia. Jakarta.

Darmawan, Ikhsan. 2015. Keterlibatan Selebriti dalam Pemilu Indonesia Pasca Orde Baru.

Efriza. 2012. Political Explore. CV Alfabeta. Bandung.

Fahmi, M. H., & Fauzi, A. M. 2020. Perilaku Pemilih Masyarakat Kabupaten Lamongan Pada Pilpres. Paradigma, 9(1).

Fauzi, A. M. 2019. Perilaku pemilih menjelang Pemilu. Journal of Islamic Civilization, 1(1), 40-48.

Fitri, N. 2015. Hubungan Karakteristik Pemilih, Konsumsi Media, dan Interaksi Peergroup, Dengan Perilaku Pemilih Pada Pemilihan Presiden 2014 di Kabupaten Brebes (Doctoral dissertation, Master Program in Communication Science).

Firmanzah. 2008. Marketing Politik antara Pemahaman dan Realita. Obor Indonesia. Jakarta.

Goyena, R. analisis pemahaman konsep tentang nilai wawasan kebangsaan dan patriotisme melalui pembelajaran sejarah di SMA Negeri 1 Wonosari. J. Chem. Inf. Model. 53, 1689–1699 (2019).

Iksan, M. Pengaruh Perilaku Pemilih Terhadap Partisipasi Politik Masyarakat Dalam Pemilihan Walikota Kota Pagaralam Putaran Kedua (Studi Perilaku Pemilih Di Kecamatan Pagaralam Utara). 45–48 (2014).


Razak, Muhammad Rais Rahmat. (2020). Implementasi Kebijakan Penyusunan Daftar Pemilih Tetap di Kabupaten Enrekang.

Razak, Muhammad Rais Rahmat. (2020). Pengaruh Perilaku Birokrasi Komisi Pemilihan Umum Terhadap Partisipasi Politik Masyarakat dalam Pemilihan Presiden dan Wakil Presiden Tahun 2014.

Salah, L. B. et al. Karakteristik pemilih, konsumsi media, interaksi peergroup dengan perilaku pemilih. (2014).

Sekaran, Uma. 2011. Research Methods for Business. Selemba Empat. Jakarta.

Sugiyono.2010. Metode Penelitian Administrasi. Edisi ke-10. Bandung : Alfabeta
Sugiyono.2015.Metode Penelitian Kualitatif dan R & D. Bandung: Alfabeta.

Subakti, Ramlan. 2010. Memahami Ilmu Politik. Gramedia. Jakarta.

Zedadra, O. et al. Perilaku Pemilih Masyarakat Kabupaten Lamongan Pada Pilpres 2019. Sustain. 11, 1–14 (2019).

Undang-undang Pemerintah Daerah Nomor 23 Tahun 2014 tentang Pemilihan Umum Kepala Daerah.

Undang-undang Nomor 15 Tahun 2011 tentang Penyelenggaraan Pemilihan Umum.

Undang-undang Nomor 10 Tahun 2008 tentang Asas-asas dalam Pemilihan Umum.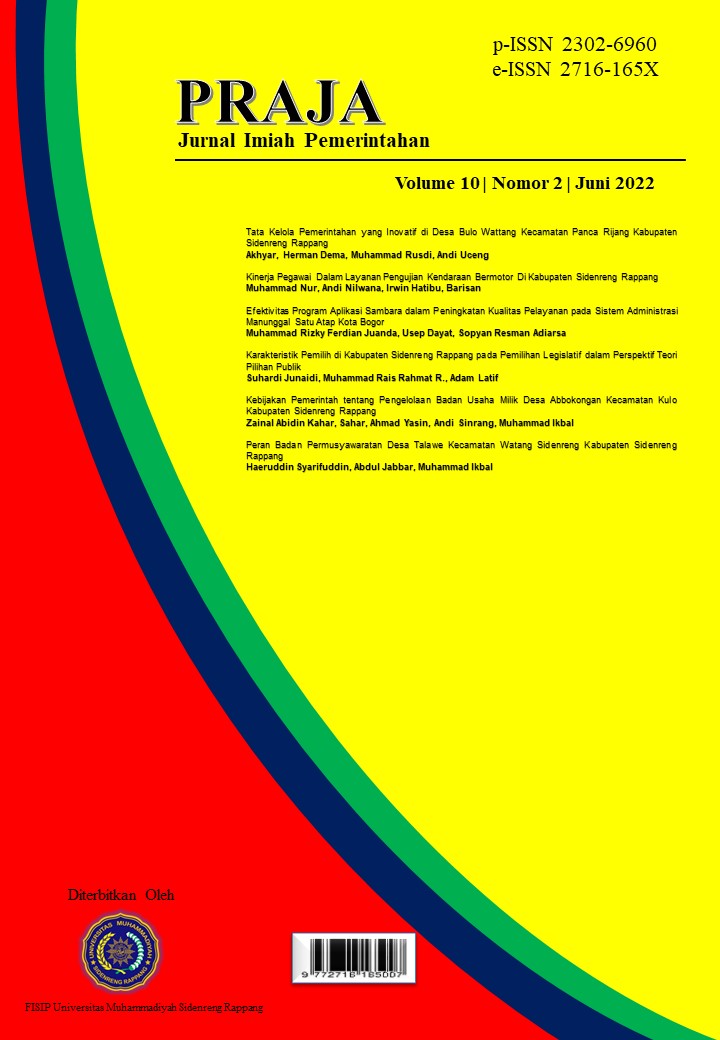 How to Cite
Junaidi, S., Rahmat, M., & Latif, A. (2022). KARAKTERISTIK PEMILIH DI KABUPATEN SIDENRENG RAPPANG PADA PEMILIHAN LEGISLATIF DALAM PERSPEKTIF TEORI PILIHAN PUBLIK. PRAJA: Jurnal Ilmiah Pemerintahan, 10(2), 100-106. https://doi.org/10.55678/prj.v10i2.654