ANALISIS PENGARUH INTERVENSI PEMERINTAH PUSAT TERHADAP RENCANA PEMBANGUNAN PEMERINTAH DAERAH KABUPATEN BANDUNG BARAT
Muhammad Dziki Zainal Arifin

Students
Keywords:
Decentralization, Otonomy, Intervention
Abstract
West Bandung Regency is one of the regions in Indonesia which also has an independent and
autonomous regional government system as the principle of decentralization is carried out and
implemented at the regional government level. Law Number 23 of 2014 concerning Regional
Government is the basic point of departure for the decentralization system in Indonesia and the
distribution of rights and powers of regional governments in carrying out various programs in their
regions as evidence of an autonomous and independent government. Decentralization also prioritizes
regional capacity and authority to provide good public services to the community. Nonetheless,
central government intervention into the local government system is something that cannot be
avoided. Many steps and also central government programs have actually reduced local government
from various aspects, especially aspects of regional planning. One of the things that can be seen in
West Bandung Regency is that with the realization of a national strategic project, the regional
government of West Bandung Regency has to re-adjust the plans they have made in the medium and
long term.
References
Aspinall, E., & Fealy, G. (2023). LOCAL
POWER and POLITICS in INDONESIA.
INSTITUTE OF SOUTHEAST ASIAN
STUDIES.
Badan Pusat Statistik Kabupaten Bandung
Barat. (2022). Kabupaten Bandung
Barat Dalam Angka 2022 (pp. 1–245).
BPS Kabupaten Bandung Barat.
Noor, M. (2012). MEMAHAMI
DESENTRALISASI INDONESIA.
Interpena.
Pemerintah Kabupaten Bandung Barat. (2018).
Rencana Akhir Perubahan Rencana
Pembangunan Jangka Menengah
Daerah 2018-2023.
Sugiyono. (2005). Memahami Penelitan
Kualitatif. CV. Alfabeta.
Sumarto, S. (n.d.). Situs Resmi BPKP 2022.
Www.bpkp.go.id. Retrieved December
30, 2022, from
https://www.bpkp.go.id/jateng/konten/26
88/PROYEK-STRATEGIS-NASIONALPSN#:~:text=Dalam%20Perpres%20ini
%20disebutkan%2C%20bahwa
UNDP. (1999). Decentralization: A sampling of
defintions (p. 1=40). UNDP.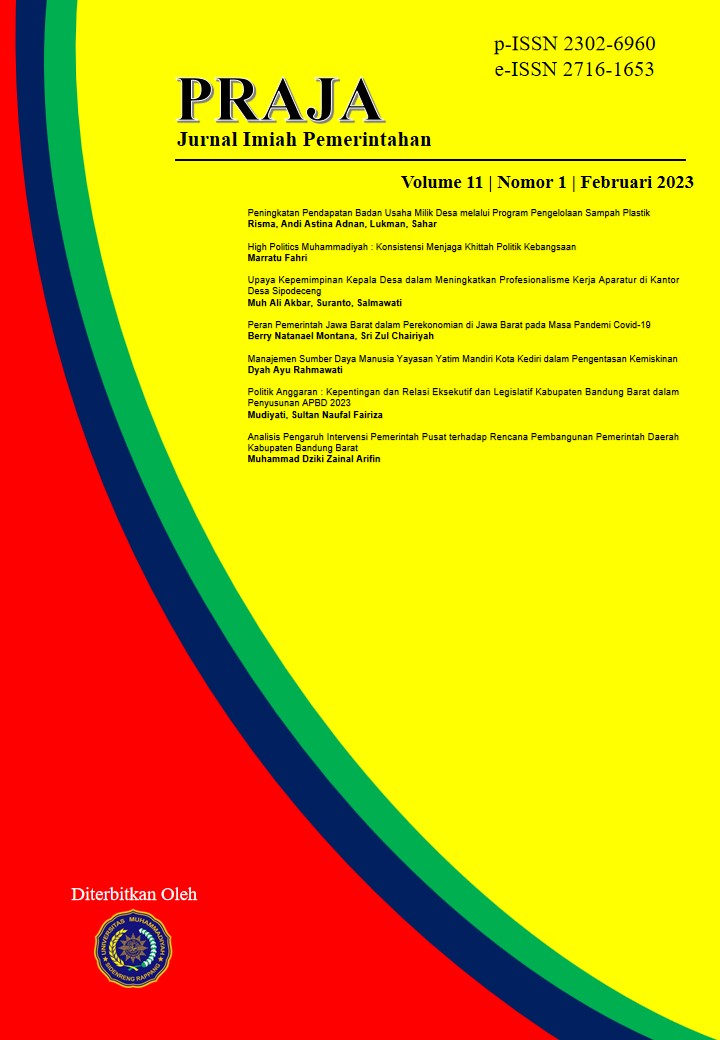 How to Cite
Arifin, M. D. (2023). ANALISIS PENGARUH INTERVENSI PEMERINTAH PUSAT TERHADAP RENCANA PEMBANGUNAN PEMERINTAH DAERAH KABUPATEN BANDUNG BARAT. PRAJA: Jurnal Ilmiah Pemerintahan, 11(1), 46-54. https://doi.org/10.55678/prj.v11i1.817